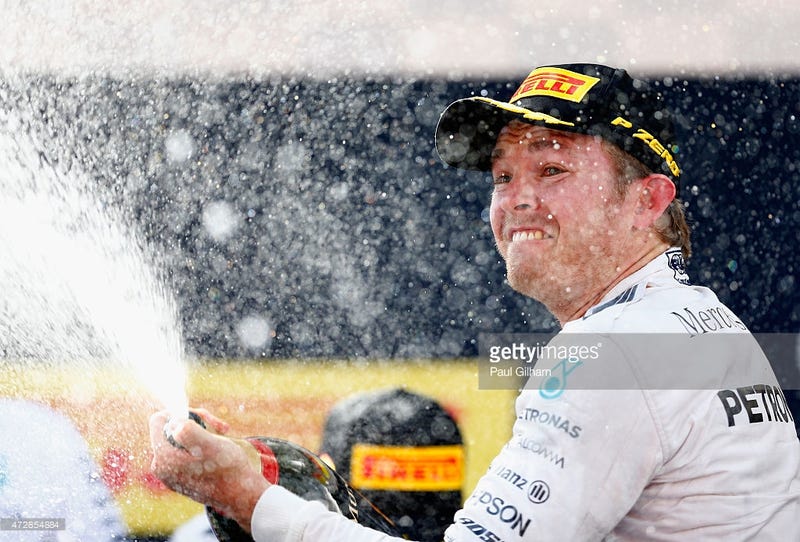 Welcome to Formula 1 observations, where I write about my observations and share with you my take on the F1 weekend. Let´s see what the start of the European Season has brought us.

Qualifying
This qualifying actually got a little less boring, a different Mercedes took the pole position. Worth mentioning is the great driving by the two your Torro Rosso drivers, whooping the Big Brothers at Red Bull once again.
Racing
Quite uneventful. Rosberg had the benefit of Hamilton getting stuck behind Vettel after the start. This allowed him to pull ahead and don´t look back. Hamilton was so stuck behind Vettel that when the team urged him to pass, he told them to come up with something because he wasn´t able to do so on track, despite being faster. An extra pitstop and running in clean air on a clear track allowed him to get in front of Vettel and finish second. Ferrari did not have the best days in term of strategy with both cars, but managed to get a decent result.
Get your motor running
That seems to be a big issue the whole season. For Honda to get them running and for Renault to keep them running. The thing is, Honda played it safe and is gradually increasing the power output. They have kept the number of engines that go boom relatively low. Renault is also lacking power but if they take some risks and run the engines to full power, they can actually keep up until they go boom. Both Ricciardo at Red Bull and Verstappen at Torro Rosso are using their forth engine already. That is a big issue as the number of penalty free engines you can use during this season is four. The little hope they had of allowing a fifth engine went up in smoke when the F1 Strategy Group announced to vote against it.
Take these broken wings
Infinity Red Bull Racing to become Audi F1? Rumors being denied, but turning out to be true. Common thing in F1. Being outperformed by little brother Torro Rosso, lacking power due to Renault, having a mid field car because Newey is playing with boats. Things are not looking up at Red Bull. They have a contract obligation to F1 until 2020, but more and more it seems they are looking for a way out. New partnership with Audi, selling Red Bull to Audi and Torro Rosso to Renault. This will be continued.
McLaren
Let´s fix the most urgent problem, the livery. That surely will improve results right? Wrong Dennis, Wrong. They got to Q2 but the race was still terrible
Mad Max Maldonado
Pastor seems to like Mad Max. He did some remodeling to the car during the race, resulting in the complete removal of the rear wind end plate before eventually, as usual, not finishing the race.
Pit Crew, kill the Pit Crew

Most excitement was in the pit. Alonso tried to kill the front jackman, coming into the pit with break issues and a rear brake failure at regular speed, not slowing down at all before reaching the crew just to be safe, slamming the brake at the usual point. As he had no rear brakes, overshooting the team completely aiming to kill the front jackman. I´m not a member of the Alonso fanclub, this doesn´t help. If I was the jackman, I would patiently wait for him to remove his helmet in the pitbox and punch him in the face.
Talking about deserving a punch in the face, Romain Grosjean also went Carmageddon on his crew giving the front jackman wings.
Photo credit: Getty Images
Video credit: Youtube

Odin is an electrical engineer with an interest in cars, racing and technology. Having a real name that is hard to pronounce, he chose this writing name because Thor was taken. He wrote this piece about himself and is determined to keep writing posts about F1 and Car related topics. Unless the weather is too nice or he actually gets a day job.