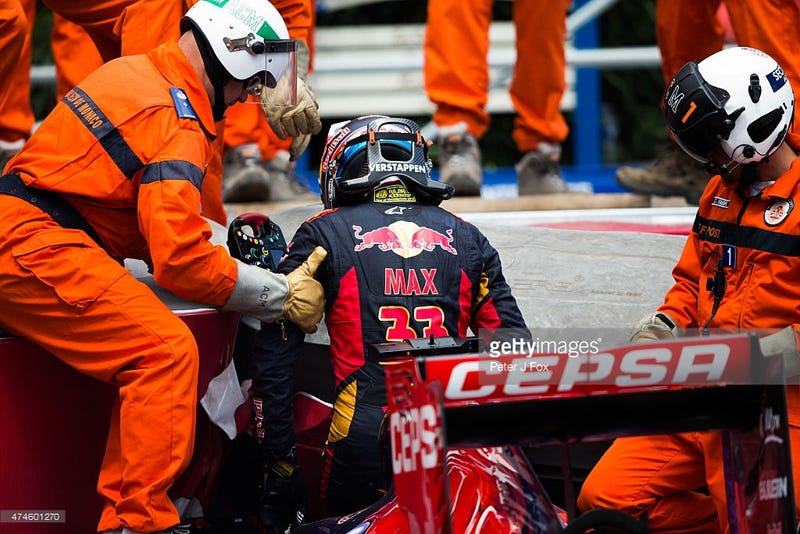 Welcome to Formula One Observations, were I write about my observations for the F1 weekend and rarely someone stumbles upon these posts by accident only to leave in a hurry without leaving a comment.
Luckily, the Monaco GP had more excitement than just a train of cars following each other and the BUT GRO PER that was on the loose during qualifying.
Driver and drive of the weekend: Max Verstappen
Most of the race evolved around Max.

It is not the first time this season and I don´t think it will be the last that Max stands out from the crowd. His first time out in Monaco, 2nd place in FP1, 7th FP2 in the wet, taking souvenirs in FP3 and qualifying in the top 10 he got himself noticed.
At the start of the actual race he got away clean. A few laps in he suffered from front wing damage when Pastor gave him a breaking test at the end of the tunnel only to overtake him shortly after. Being on track for points, matching the pace of Hamilton in the lead lap after lap he was doing well only 22 seconds behind the leader. Then the team messed up dearly during the pit stop, it is not the first time this season it proved to be hard to actually mount a new wheel to a F1 car. Standing in the pit over 30 seconds, ten times longer than the usual 3 seconds, the race to get back into the points was on.
To the surprise of many, Max made another pitstop after a short stint on the harder tires, losing even more places. But that change to the super soft made him one of the fastest cars on track. He then found a way to overtake on Monaco, shadowing the leaders. He got behind Vettel who was at that point in 3rd place and overtaking the backmarkers Max was racing. Max was at that pint faster than Vettel, but placed himself on the rear wing at every blue flag and as the competition moved out of the way for Vettel, Max also sneaked through. This got him past Sainz Jr. and Bottas.
Next up: Romain Grosjean. Now team Lotus turned out to be bad news for Max. He already lost part of his front wing to Maldonado and would soon get in touch with Grosjean. Warnedby the Lotus team, Grosjean slammed the door shut hard after letting Vettel by, leaving Max no chance to pass. The speed difference was huge, but overtaking on Monaco is near impossible. Then the big collision happened that changed the race. As Max stated, Grosjean gave him a breaking test at the end of the start finish straight, breaking 10 to 15 meters sooner than the laps before, catching him by surprise and leaving him no were to go.
The stewards saw it otherwise, penalizing Max with 5 places on the grid the next GP and giving him two penalty points on his license.
Felipe ¨cry baby¨ Massa soon commented that he thought it was a dangerous move and the penalty was justified. With him being involved in every avoidable incident last season, he should shut the hell up.
I would like to see the data from team Lotus comparing the incident with the previous laps. To me, Grosjean pulled a dangerous move and Max suffered the impact. Max made the worth watching and he will probably won´t fall for the breaking test trick again. But he should not be penalized for this.
More Steward failures
The penalty for Max was not the only dodgy decision by the stewards. Alonso got a 5 second penalty for causing a collision with Nico Hulkeberg. They were side by side in lap 1, touched and Niko hit the wall losing his wing. Racing incident according to both Alonso and Nico in the post race interviews. So no penalty should have been given.
Later in the race, same point on track. Ricciardo hit Kimi from behind, pushing him aside and passing him. Stewards investigate but take no further action. Now the Alonso penalty was a load of crap. This was a clear penalty and they don´t give one. Stevie Wonder and Ray Charles would call thém blind.
So who won?
Well Hamilton lost. With a 19 second lead, virtual safetycar out due to the Verstappen crash, Mercedes pulled Hamilton in for a free pit stop. Misjudging the gap, Hamilton rejoined behind both Rosberg and Vettel in third place. Both of them stayed out and that free pit stop became a very expensive one. Rosberg got a free win, Vettel was happy to be promoted to second place. Lewis was not the center of festivities in third place.
Picture credit: Getty Images

Odin is an electrical engineer with an interest in cars, racing and technology. Having a real name that is hard to pronounce, he chose this writing name because Thor was taken. He wrote this piece about himself and is determined to keep writing posts about F1 and Car related topics. Unless the weather is too nice or he actually gets a day job.