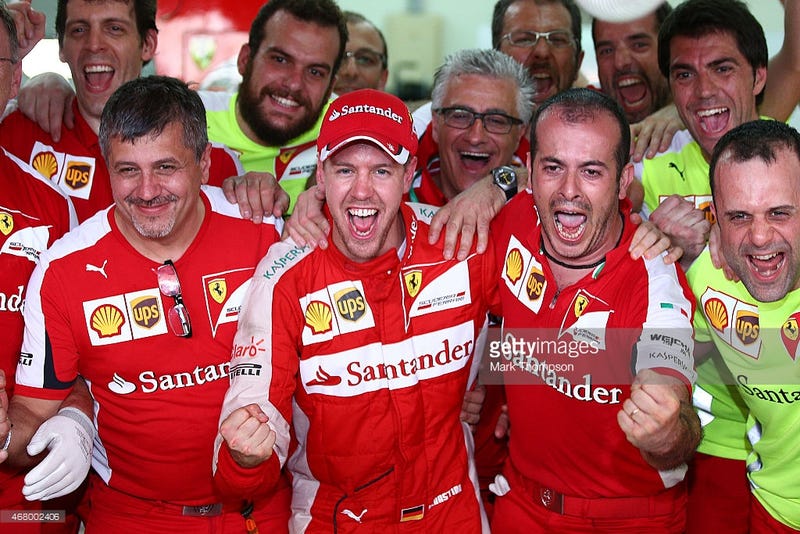 Welcome to Formula 1 observations, where I write about my observations and share with you my take on the F1 weekend. In case you are actually reading this, this is the first in hopefully a series of posts during this F1 season. So you did not miss a Formula 1 observations post about the first race of the season. In fact if you missed the first race of the season you did not miss a lot at all.
Ferrari
Vettel
Vettel in his second race for Ferrari managed to deliver the first Ferrari win since the Spanish GP in 2013. Last season was unsuccesful for both Ferrari and Vettel, failing to win even one race. Many thought Vettel lost his mind using the escape clause in hit Red Bull contract to join Ferrari. After all, Red Bull did manage to win 3 races last year with Ricciardo being the only team to beat Mercedes. Ferrari dropping Alonso from their line-up, surely the Italians have no clue what they are doing. How things can change. Pairing Vetell with his old Torro Rosso race engineer, changing management of the team again and finding a real joy and motivation to improve, Ferrari showed good pace during the whole weekend. Vettel drove a perfect race and lapped both the Red Bull cars on his way to victory. A talented German driver in a Ferrari, that does ring a bell. The German – Italing national anthem combination on the podium and even the gestures and singing during the Italian part brought back memories of a successful age.
Kimi
Unlucky start of the season for Kimi. During the first race the team did not manage to mount the wheels properly during the pit stop. This weekend he missed the top 10 qualifying with the rain coming down mid session. He had to start in the pack, got clipped in the final corner having to run a full lap with a flat tire losing a lot of time. Safety car helped somewhat but not as much as previous seasons as you are not allowed to catch up fast but are limited to a delta time. Kimi did fight his way back through the field using the Ferrari race pace and passed a lot of cars on the way. His 4th place finish overshadowed by Vettel´s win, it is the strongest race I have seen of Kimi since his return to Ferrari.
Mercedes
Confusion at Mercedes during the race. Why is there a red car on the first row? Why is there a red car following me? Why is there a red car passing me? Who am I racing? Hamilton arguing with his engineer over the radio on several occasions and wondering why the team put the harder tires on for the final stint. The Mercedes team still convinced that both Hamilton and Rosberg were racing Vetell and would catch him in the end. Looks like Mercedes needs to actually wake up and get out of cruising mode to win races this season. Let´s hope for the race fans it stays that way and we might have an interesting season on our hands.
Williams
Not convincing during qualifying, steady during the race. Bottas back from his back problems scoring a solid 5th and 6th place finish with both cars and keeping up the pace they found last season.
Torro Rosso
They showed signs during the first race, but confirmed it this race. They are the best Renault powered team on the grid outperforming Red Bull in reliability, performance, strategy and likeability.
Verstappen
On his way to score point in the first race, he had to park the car with technical issues. No issues to stop young Max this weekend. A very impressive qualifying performance in dry, wet and changing conditions. A very solid race performance. Staying out of trouble, defending, overtaking and becoming the youngest point scorer in F1 history. Even with that Hamilton imitation contest moment on pit entry. Too young for F1? Well in general at age 17 I would say yes but Max proved his point, showed he has the skill to be in that seat and he is showing impressive stuff in what is only his second race. Just imagine the potential in a top team with some more experience to go with that skill and I don´t think we have seen the last of Max in F1
Sainz Jr.
Had trouble in the wet qualifying, delivered a solid race and completed the Torro Rosso team victory over Red Bull. Another rookie that shows Torro Rosso and the Red Bull driver development team know what they are doing.
Red Bull
How long will they blame Renault for all their issues? Being whooped by the sister team running the same power plant. They can only take the criticism that far. Renault already stated that while needing to improve, they are exploring their options in F1. Being concerned about their reputation all options are on the table, from getting out of F1 to buying Torro Rosso and running a full factory team again. Red Bull might lose Renault as their engine supplier with the relationship at an all time low. Ferrari and Mercedes are not going to help them out, leaving Honda as their only option. That is if you really want call that an option.
McLaren Honda
Still a long way to go for McLaren Honda, they found a bit more pace but still lack reliability. There is improvement noticeable and with their budget and mid field being close, point are a possibility further on in the season.
Alonso
Fernando is back and acts happy, denying all that has been written about the accident and floating arround the paddock. He managed to beat his pre-season tesing stint of 12 laps by completing 21 laps before retiring.
Button
Managed to finish last race against all expectations, limping around the last laps of the race. He did not manage to get to the end this time, but was surprised that he could stay with the back of the pack and even overtake on some occasions. Stating so to his race engineer over the team radio.
Force India
Eventful race, both drivers receiving penalties for racing incidents and causing collisions. With all that bumping, crashing and penalties both drivers managed to finish but failed to score points. They really need to find some pace to make their mark in mid field.
Nico Hulkenberg
Nico must be a Jarno Trulli fan. During Jarno´s time at Toyota he managed to pull off a good qualifying, only to be terribly slow and hard to pass in the race. The cars behind being stuck in what was known as the ¨Trulli Train¨. Today we experienced the ¨Hulkenberg Holdup¨. If even Button in a McLaren can catch the back of the group, you are seriously slowing people down.
Manor Ferrari
The team managed to finish updating Windows in time for this weekend. Running both cars during practice and qualifying, only Roberto Merhi started the race due to fuel system problems on the car of Will Stevens. Still, they managed to finish the race and gain valuable data moving forward. With a modified 2014 car and a 2014 Ferrari engine in a 2015 field that is quite an effort and well done.
Outlook
With the first race being a farce and unexciting, the second race was an entire different story. Ferrari taking on Mercedes, Torro Rosso rookies with a strong performance, weather conditions, actual overtaking, this was good to watch and eventful.
Let´s hope the second race is a preview of what is to come this season. We will have an actual fight on our hand for the championship between Ferrari and Mercedes and not just Lewis and Nico. Midfield is close with Williams, Torro Rosso, Red Bull, Sauber and Force India fighting for points. Maldonado not finishing, Grosjean complaining, McLaren fighting with Manor for last position.
Can´t wait to see what China will bring us in two weeks.
Photo credit: Getty Images
Odin is an electrical engineer with an interest in cars, racing and technology. Having a real name that is hard to pronounce, he chose this writing name because Thor was taken. He wrote this piece about himself and is determined to keep writing posts about F1 and cars. Unless the weather is too nice or he actually gets a day job.